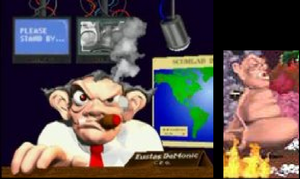 Eustace DeMonic is an angry businessman and CEO of Scumlabs. He has grey hair on the back of his head and is seen with a cigar in his mouth. He appears at the end of a level when a Fryborg, Beezleborg, or V.E.R.N appeared. The cast screen and game manual for Rampage: World Tour states that he has "underworld" connections.
Around the end of Rampage: World Tour the monsters go to several special stages. There they fight Eustace DeMonic who has been transformed into a giant bouncing monster via the same toxic waste or perhaps demonic powers. On death he leaves a gruesome carcass.
Ad blocker interference detected!
Wikia is a free-to-use site that makes money from advertising. We have a modified experience for viewers using ad blockers

Wikia is not accessible if you've made further modifications. Remove the custom ad blocker rule(s) and the page will load as expected.