Monster/Mutant
Curtis the Mouse
Species
Human / Mouse
Gender
Male
Fur Color
White
Skin Color
Cream
Eye Color
Red
Speed
Fast
Jumping
Mediocre
Crushing
Low
First Appearance
Rampage 2: Universal Tour (1999)
Last Appearance
Rampage: Puzzle Attack (2002)
Background
Edit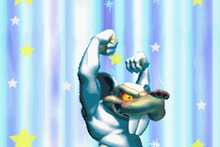 Curtis is a giant mouse, who was one of the newer generation of monsters spawned in Rampage 2: Universal Tour.
Before he became a monster/mutant, Boris, Curtis and Ruby were in a lab in Scum Labs, they were transformed into monsters during an accident at the lab, simultaneously recreating the original events of Rampage: World Tour. Curtis is already playable at the start of Rampage 2: Universal Tour and Rampage Through Time. In parallel to Rampage: World Tour, Curtis is the technical version of Ralph of Rampage 2: Universal Tour.
Appearance
Edit
Curtis has white fur with peach-cream skin highlights. he has 2 huge buck-teeth and sharp teeth behind. He has huge ears and clawed feet. The palms of Curtis' hands are highlighted with skin. He has a pink tail.
Ad blocker interference detected!
Wikia is a free-to-use site that makes money from advertising. We have a modified experience for viewers using ad blockers

Wikia is not accessible if you've made further modifications. Remove the custom ad blocker rule(s) and the page will load as expected.