Monster/Mutant
Boris the Rhinoceros
Species
Human / Rhinoceros
Gender
Male
Skin Color
Gray
Eye Color
Red (Universal Tour-Puzzle Attack)
Yellow (Total Destruction)
Speed
Slow
Jumping
Mediocre
Crushing
High
First Appearance
Rampage 2: Universal Tour (1999)
Last Appearance
Rampage: Total Destruction (2006) (Wii exclusive only)
Boris is a Rhinoceros monster who was one of the newer generation of monsters spawned in Rampage 2: Universal Tour.
Boris is already playable at the start of Rampage 2: Universal Tour, Rampage Through Time and the Wii version of Rampage: Total Destruction.
In contrast to Rampage: World Tour, Boris is the technical version of George of Rampage 2: Universal Tour.
Background
Edit
Rampage 2: Universal Tour (1999)
Edit
Before he was mutated, Boris, Curtis and Ruby were in a lab in Scum Labs, they were transformed into monsters during an accident at a lab, simultaneously recreating the original events of Rampage World Tour.
Rampage: Total Destruction (2006)
Edit
Boris drinks some Scum Soda, and has a violent reaction that turns him into a rhino-type monster.
Abilities
Edit
Boris`s scaling level is normal, his punching level is expert but his level of walking is low.
His favourite food is salad.
Boris' s Special is Rhino charge, Use his horn to make a charge attack and demolish a building in a single blow (Recommended do this with large and thick buildings).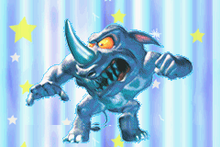 Ad blocker interference detected!
Wikia is a free-to-use site that makes money from advertising. We have a modified experience for viewers using ad blockers

Wikia is not accessible if you've made further modifications. Remove the custom ad blocker rule(s) and the page will load as expected.